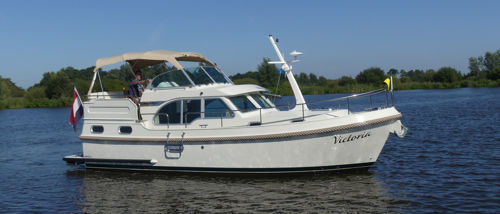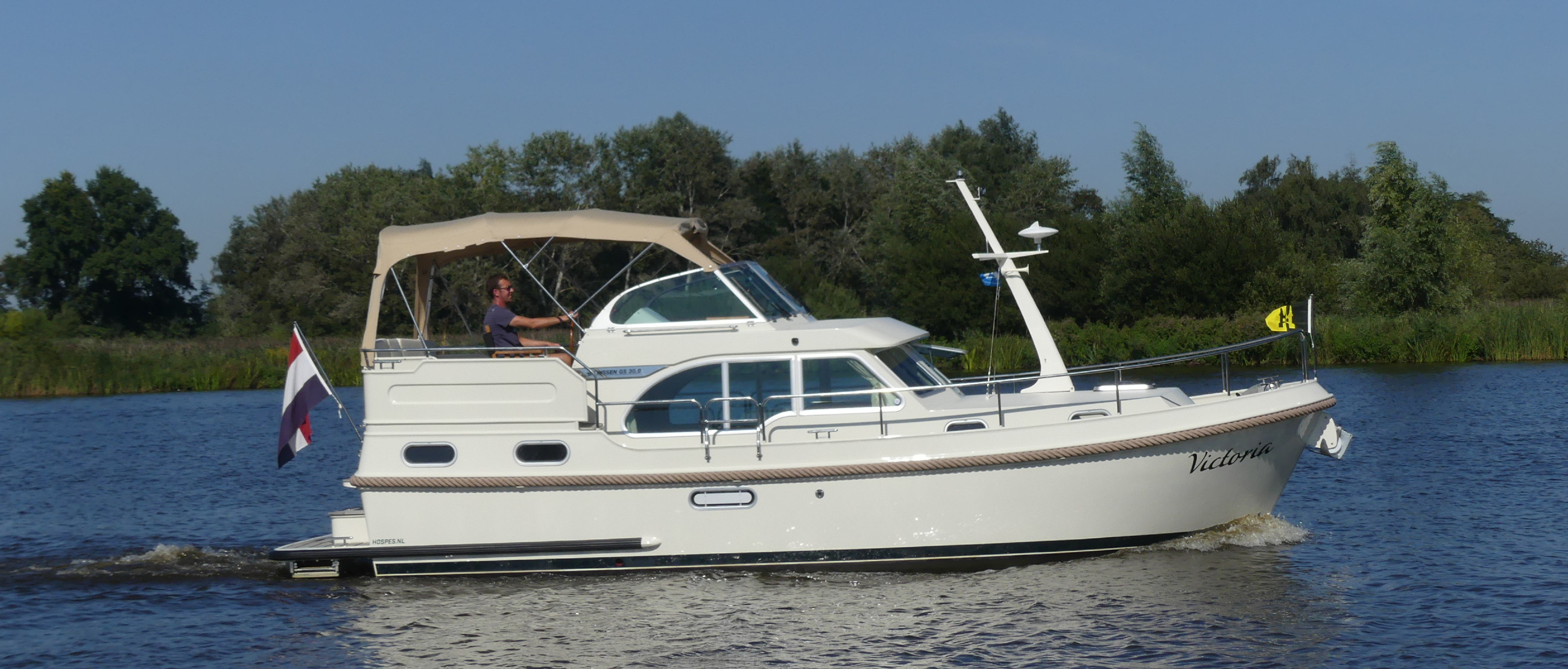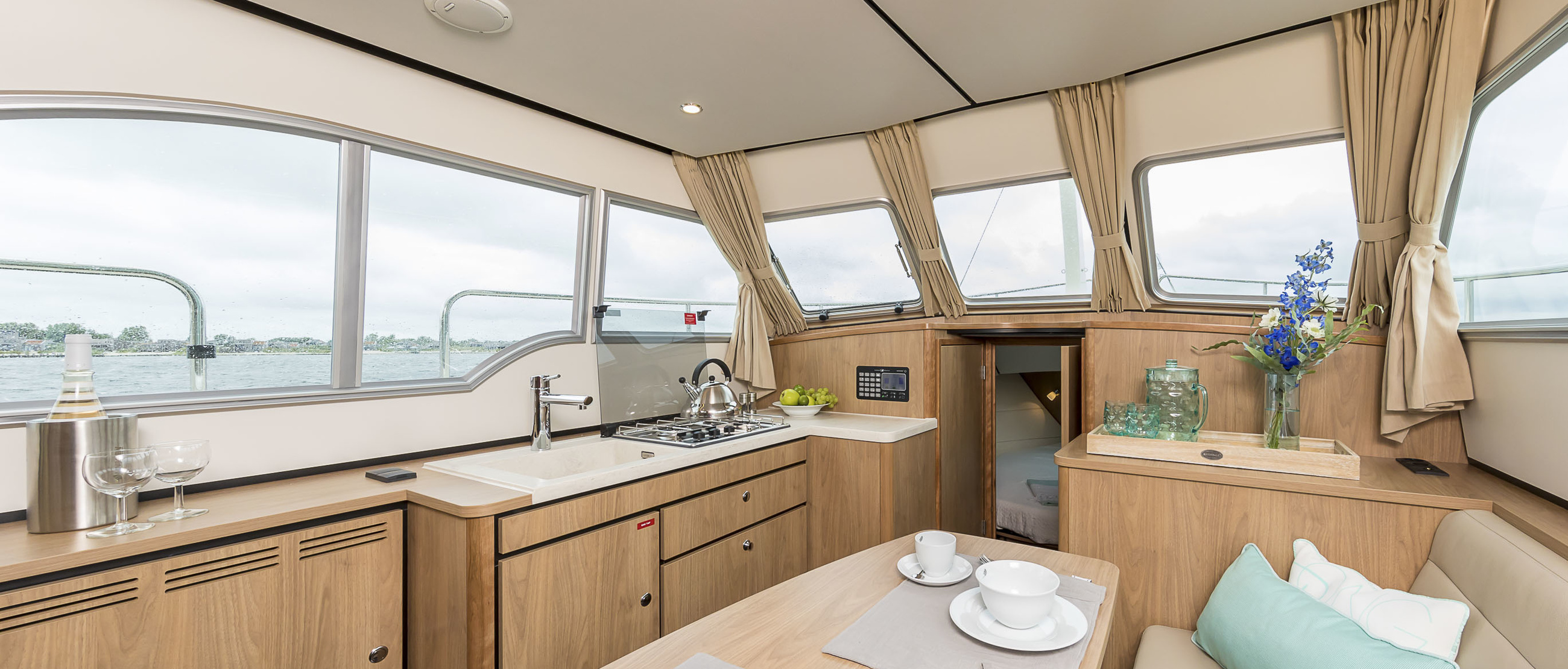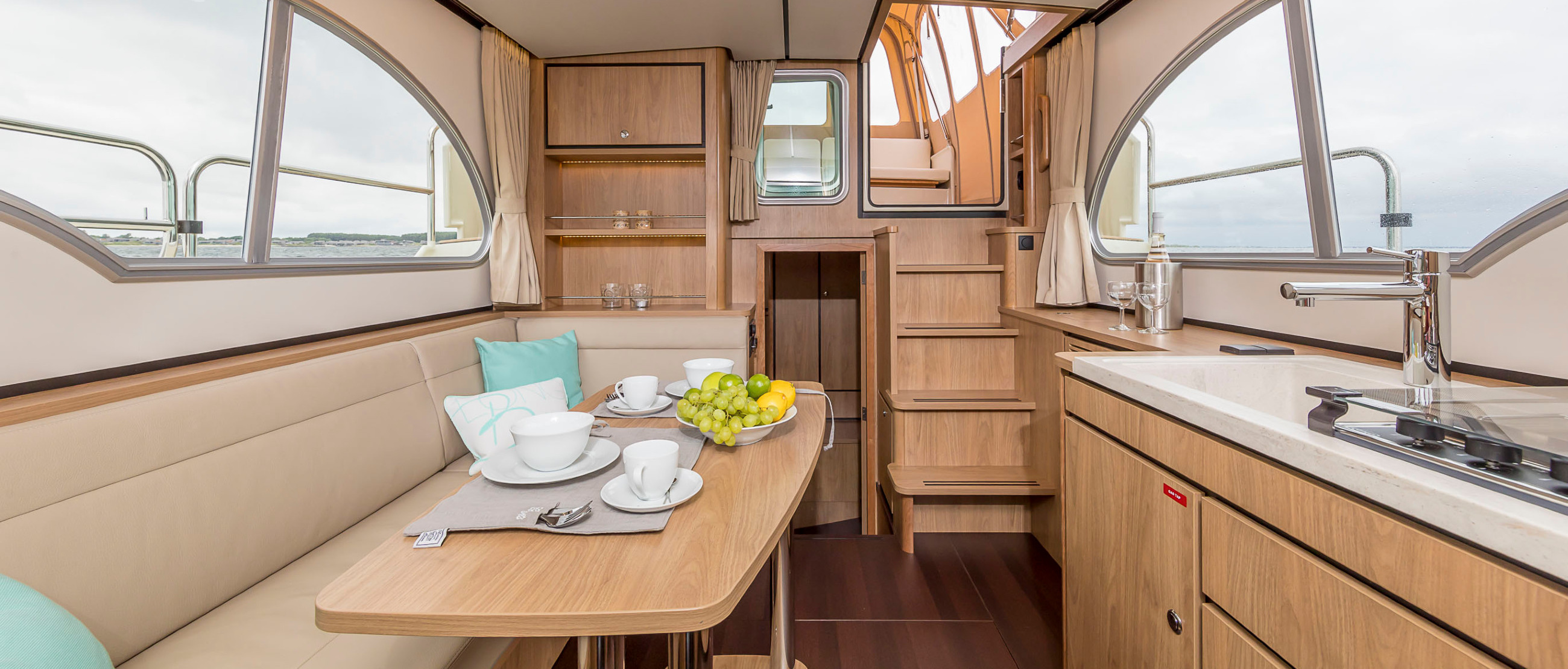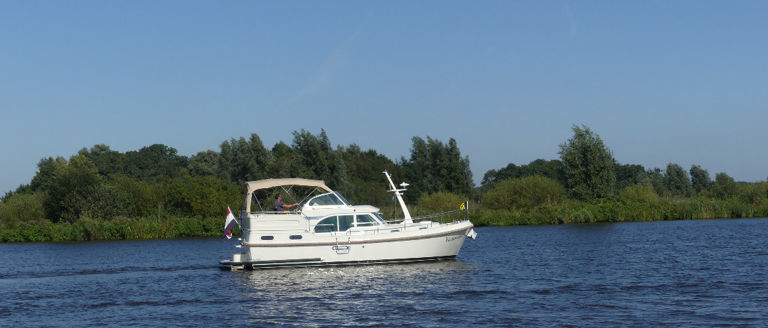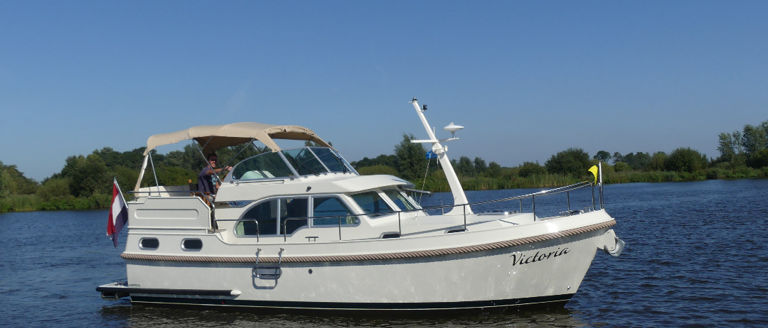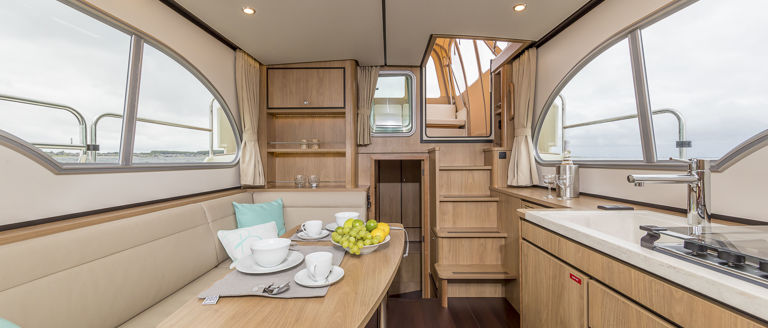 Proffessional instructions
Rent this Linssen Grand Sturdy 30.0 AC 'Victoria' ?
Luxurious and fully equipped Linssen motorboat exclusively at Bootverhuur Hospes in Sneek. An ideal yacht for sailing on the Frisian lakes. With the steering position on the upper deck you can sail in the open air, the adjustable convertible top makes sailing in all seasons a fantastic experience! The Linssen Grand Sturdy 30.0 AC has a spacious upper deck with a very extensive control and navigation system including bow and stern thrusters. A stylish salon with lots of (day) light finished in a beautiful light color scheme. Two spacious bedrooms with comfortable beds and private ensuite sanitary facilities.
Sailing characteristics and options
This luxurious and comfortable ship for four people has perfect sailing characteristics and is equipped with many options! This Linssen has perfect sailing characteristics and is very manoeuvrable. You can easily operate this Linssen Grand Sturdy 30.0 from the spacious aft deck, with the bow and stern thrusters lending a helping hand. Present log and indicators are of the Raymarine brand, including: rudder angle indicator, depth gauge and speedometer, GPS, log and chart plotter. Of course, the most important water charts and most beautiful sailing routes are available on board. The ship has both a 12 Volt and a 220 Volt connection, so you always have power on the way. Connect the shore power cable when you moor in one of the many ports in Friesland and the Netherlands. The hot air heating makes it pleasant to stay. and you can continue to sail and enjoy even with less good weather. A fully built-in audio system on board of this fantastic yacht.
Interior Linssen Grand Sturdy 30.0 AC
On board in the living room you can relax with a spacious sitting area with leather upholstery (which can be adjusted to a third sleeping place or lounge bed). The salon has a lot of daylight through the windows, you can really enjoy the beautiful view low over the water. The kitchen of this yacht is equipped with a complete kitchen inventory for 4-6 people, cooking and frying pans, filter coffee machine and kettle. The refrigerator has a capacity of 85 liters and is equipped with a freezer compartment and there is a three-burner gas cooker. There is a lot of storage space on board, in the form of a large hatch in the floor in the saloon, under the round seat and in cupboards in the saloon and in the sleeping cabins. In the owner's cabin there is a French bed with a luxurious mattress and slatted base. The second bed is located in the sleeping cabin at the rear, with plenty of cupboard space and its own sanitary room. Bed linen and pillows are provided. The beds in both bedrooms will be made! The two sanitary rooms have an electric toilet and sink and one separate shower room with teak bench. The ship has a boiler (24 litres) for sufficient hot water. Along the gangways you can easily step on either side of the ship or on the bathing platform. On the bathing platform there is a bun with, among other things, the gas bottle (safely off board) and a stainless steel bathing ladder is available. There is also a second shower with hot and cold water on the bathing platform. This ship has extra handles to safely enter the aft deck via the bathing platform.
Good sailormanship
When renting this ship you must be an experienced skipper. We ask you about this when booking. A sailing license is not required when renting this motorboat. Good seamanship and sailing experience is required. We expect you to know the sailing rules and have practical experience with motorboats.
Want to leave with more certainty? Then you book an instruction sailing lesson with a professional instructor.
For more information, visit our website under 'sailing lessons' and 'sailing tips'.
Rent a Linssen Grand Sturdy 35.0 AC at Bootverhuur Hospes?
Exclusively in Sneek!
All-risk insured with an excess of € 1000.00 (deposit) per damage.
Weekprice starts € 1795,-

Luxe & well maintained

New in the fleet 2021

Bow- and strernthruster
Book directly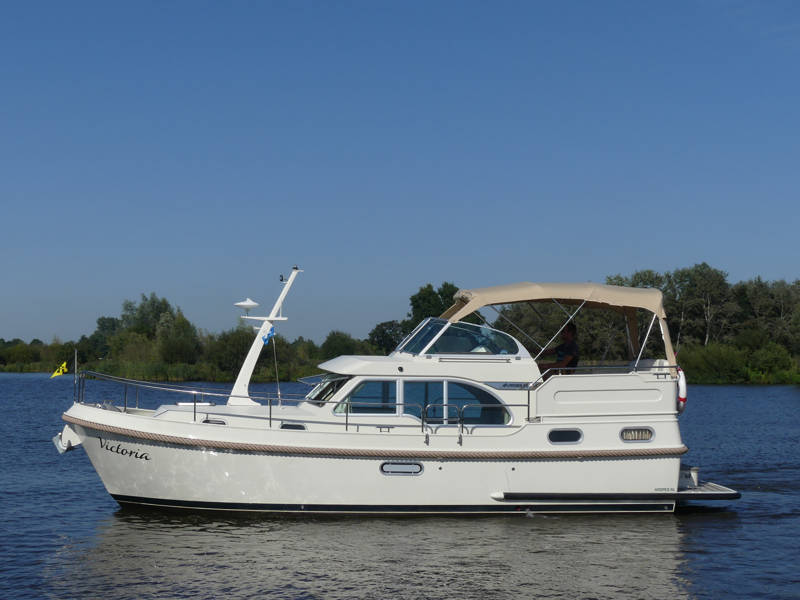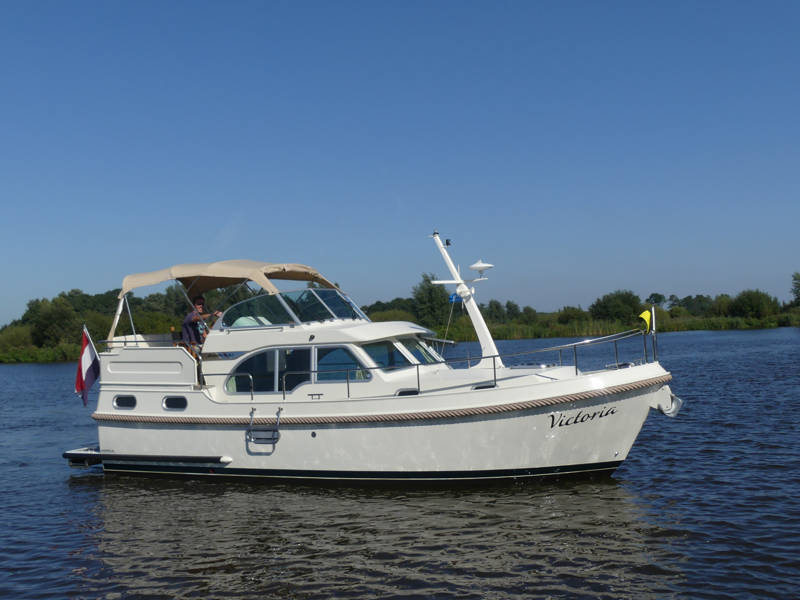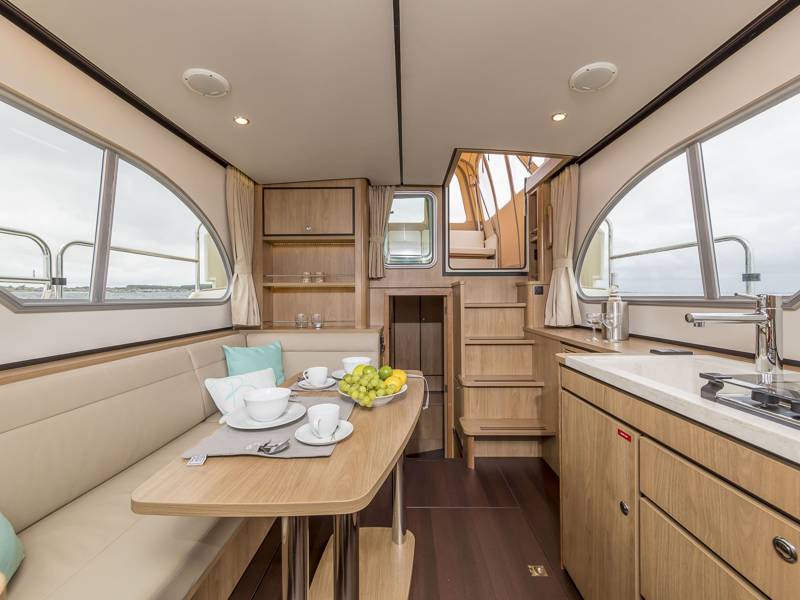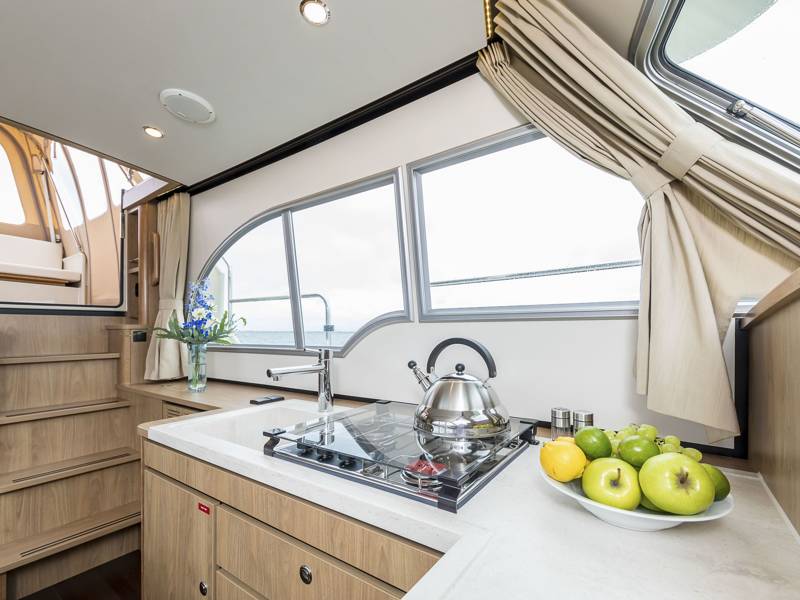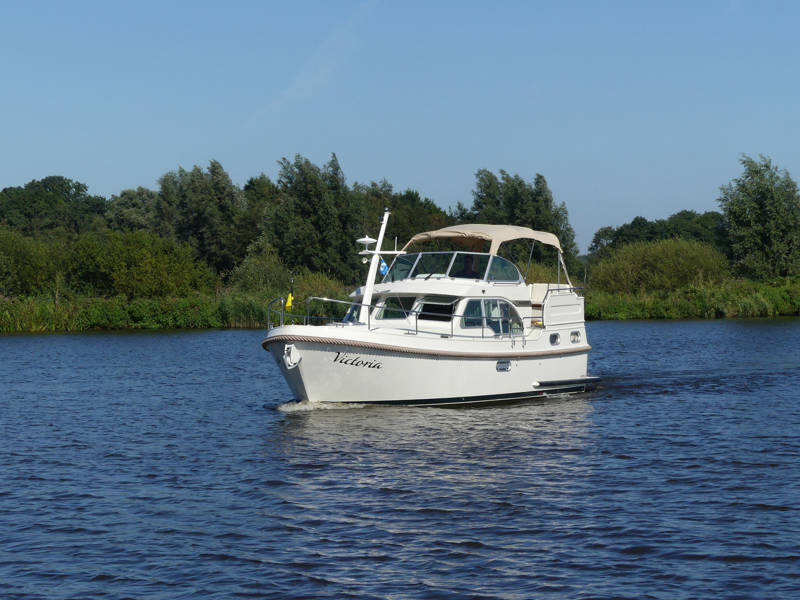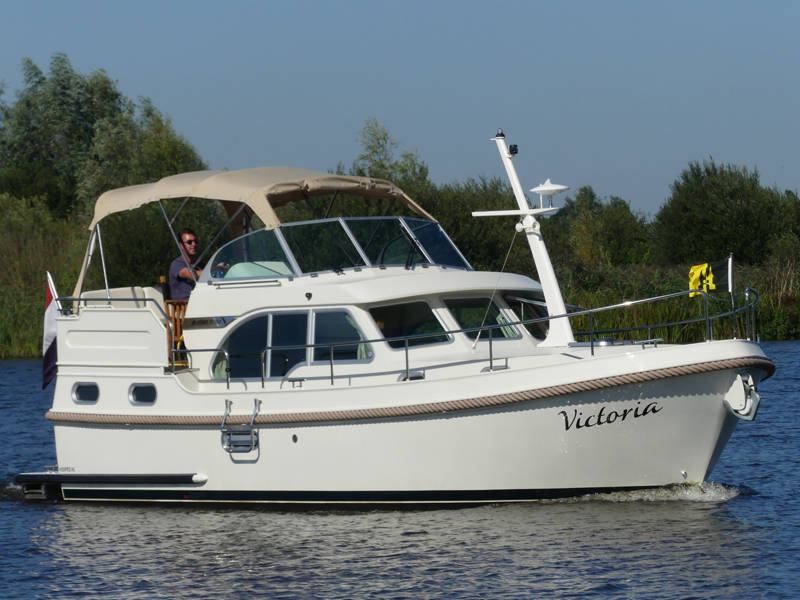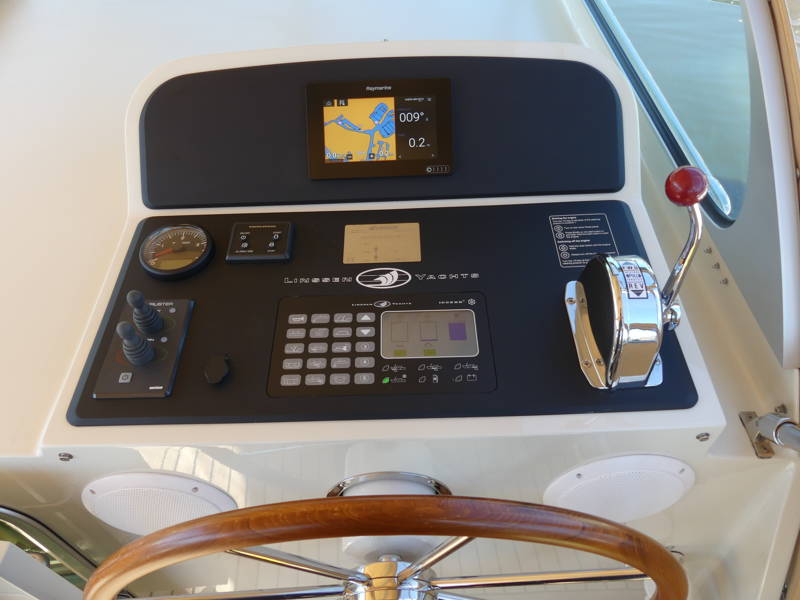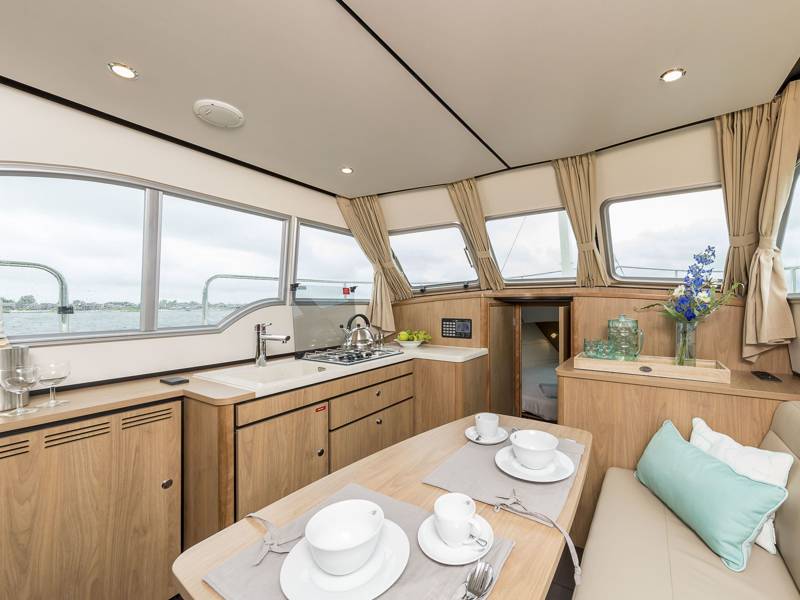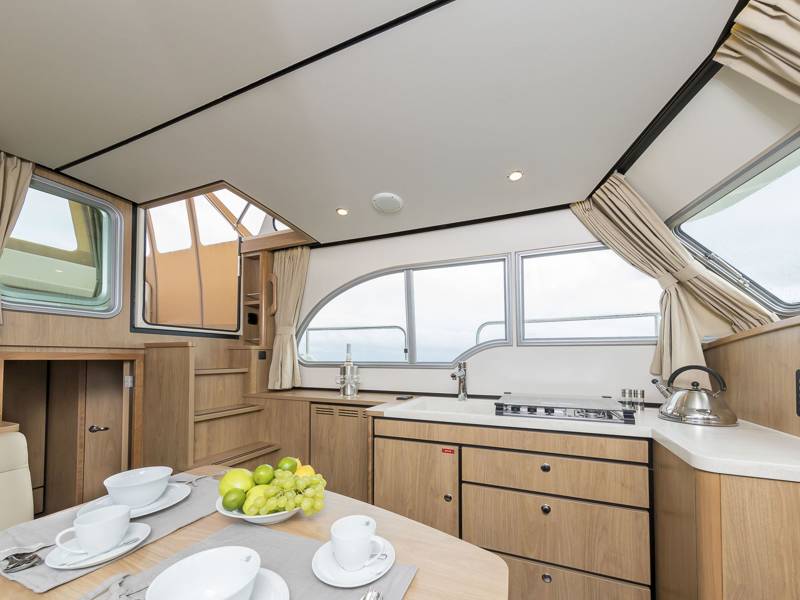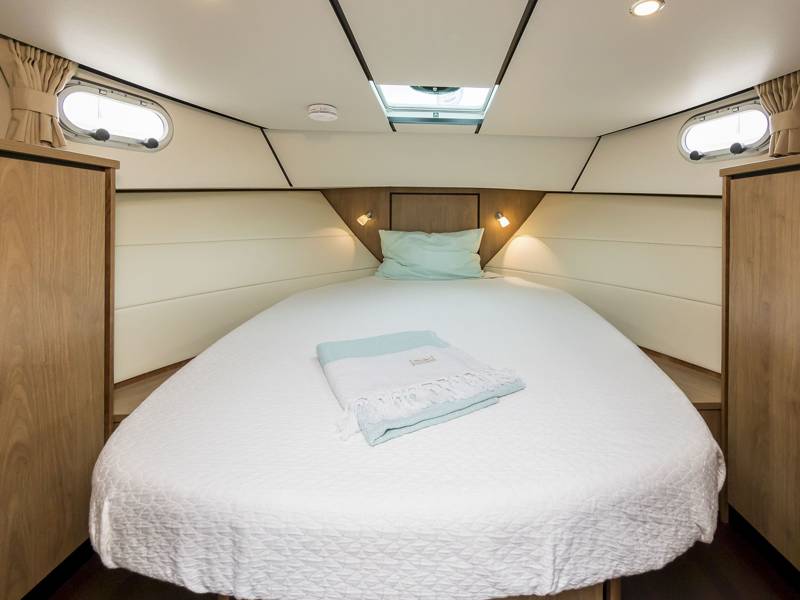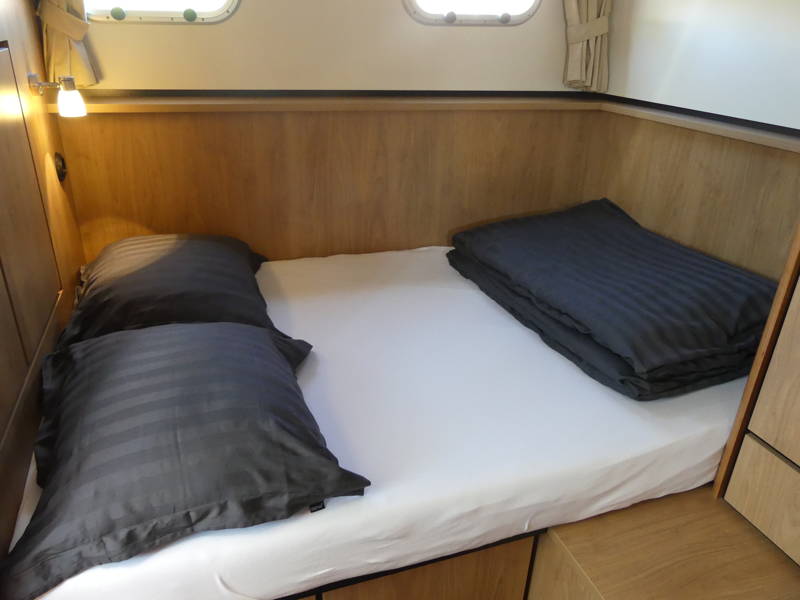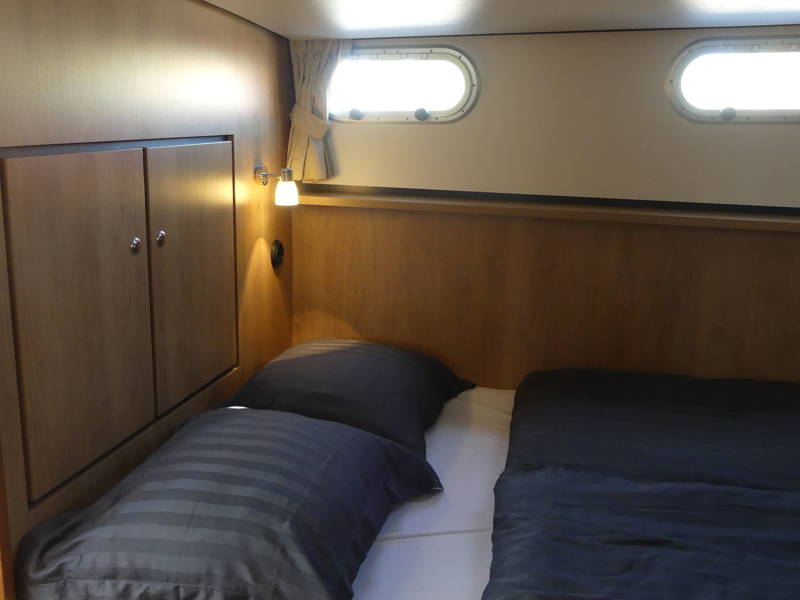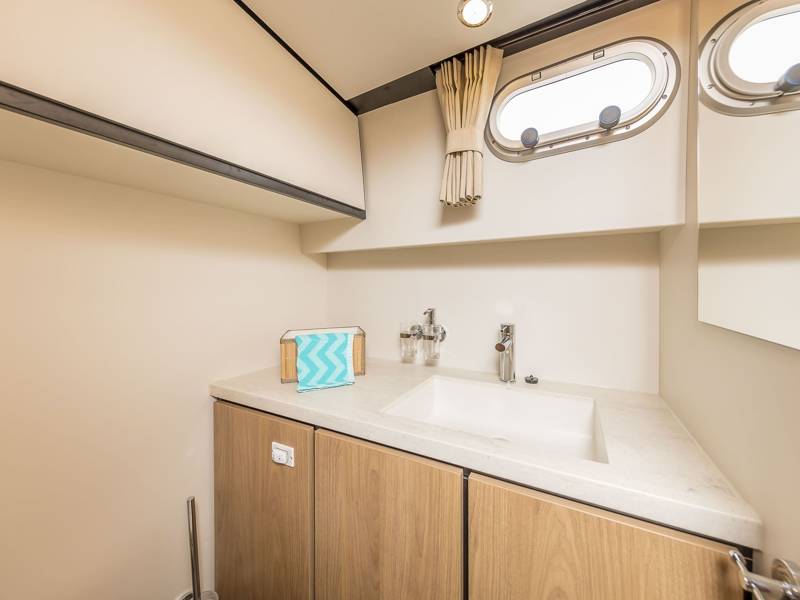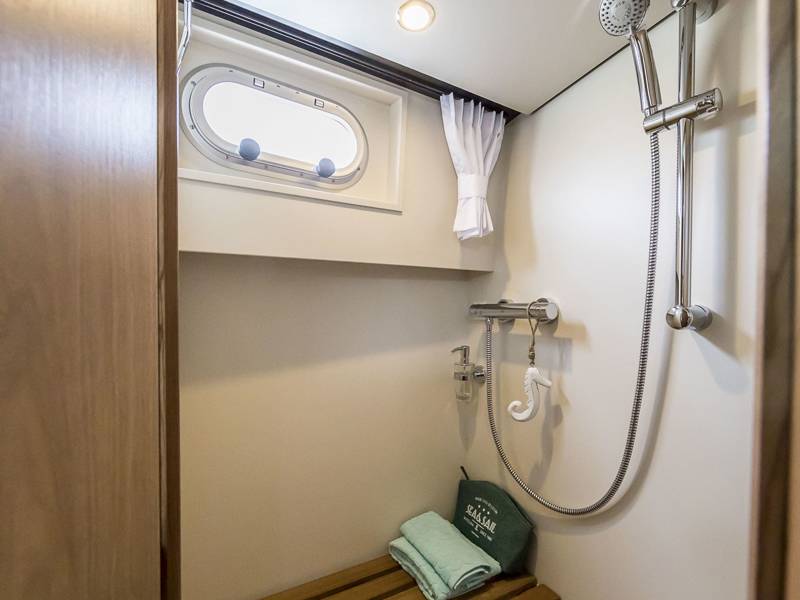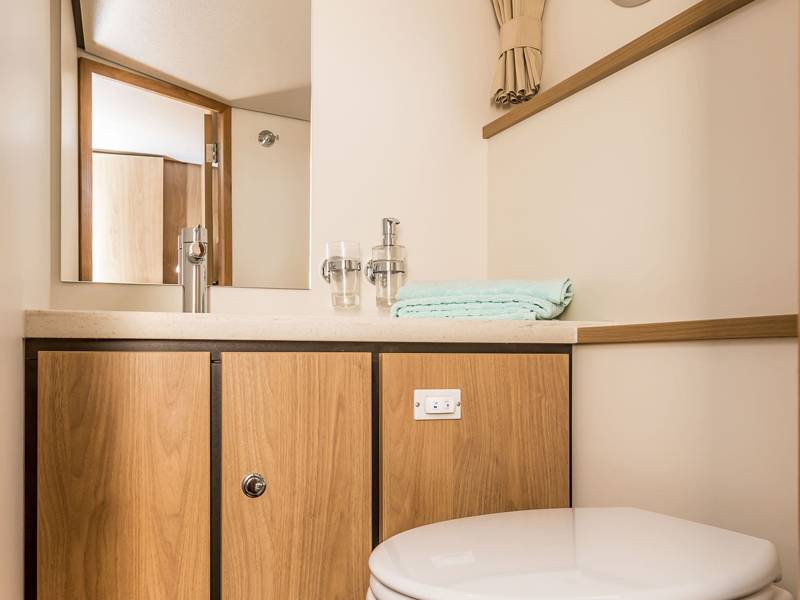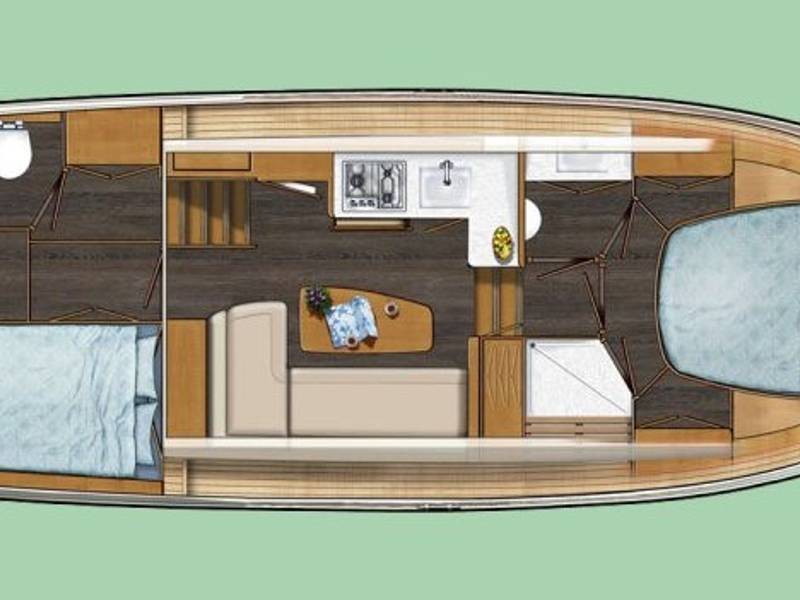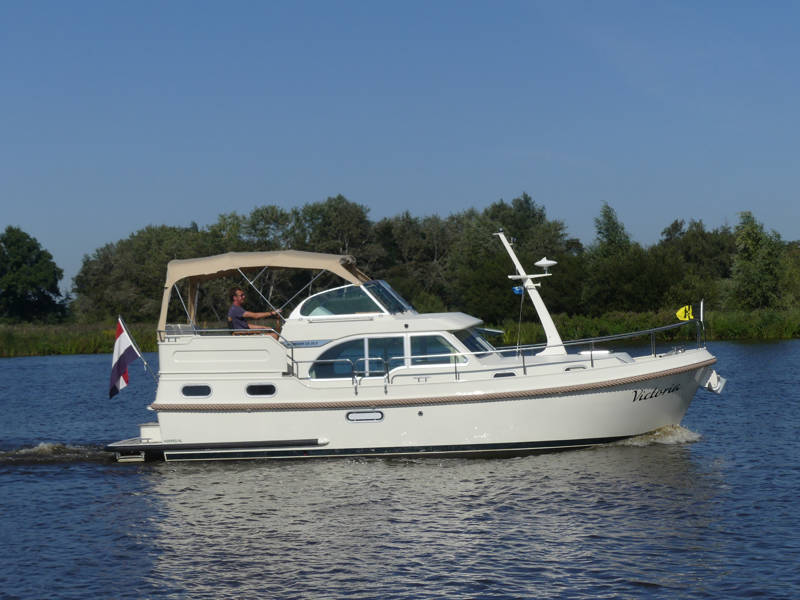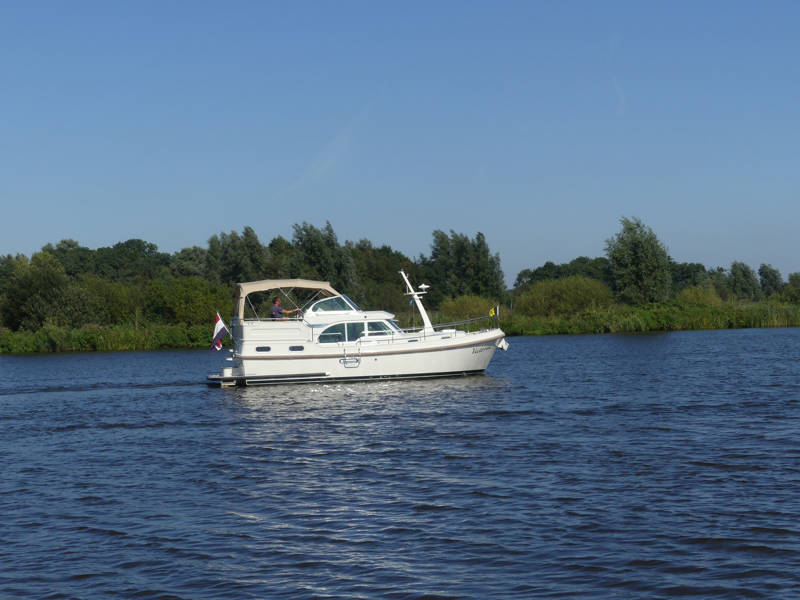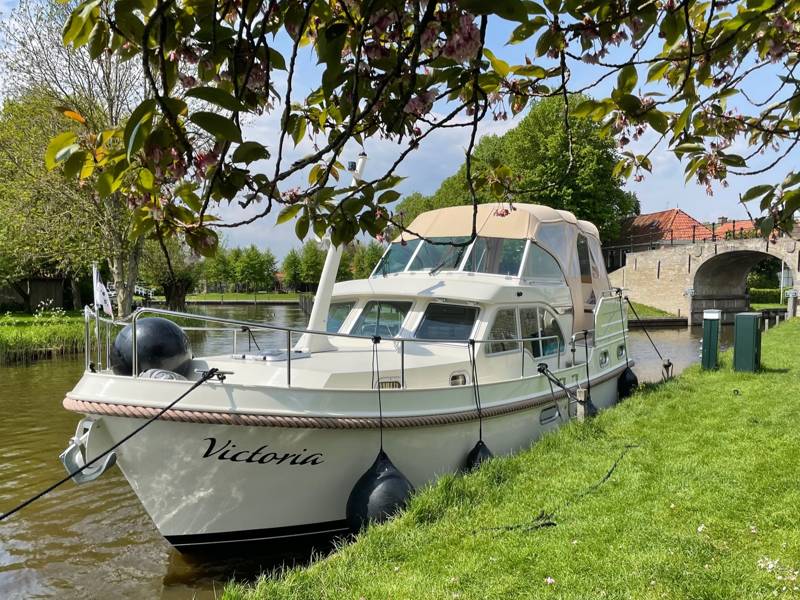 Specifications
Rudder angle indicator
chart plotter
G.P.S.
Log/Depth gauge
shore power
Victron inverter 220 V
220 Volt
12 V connection
Electric anchor
Teak in cockpit/dek
Hot air heating
Hotwaterboiler
Shower room (inside)
Shower bathing platform
Electric toilet
Warm running water
Cold running water
Refrigerator
Radio/ CD player
Specifications
Number of persons
2 - 4
Length
10.0
width
3.35
Depth
1.0
mast height
3.85
Air draft
3.85
Motor
Volvo Penta 50 Hp Diesel
bow thruster
stern thruster
Diesel tank
240
Water tank
220
Blackwater tank
240
Rent this new Linssen Grand Sturdy 30.0 AC 'Victoria'!
More information or advice?

Special period of time?

Please contact us!